This article will teach you how to turn a text, photo, or word document, or presentation into a PDF (Portable Document Format) file. You can do this on any computers using PDFRun. 

PDFRun is an online, easy-to-use PDF editor platform. It has various features like cloud storage for your PDF files, document manager, electronic signature, and PDF merging or splitting. PDFRun also has an extensive library of templates.
One of its features is "Convert to PDF" which supports cloud services such as Dropbox, Drive, OneDrive and more, creates a PDF file of excellent conversion quality, supports various file formats (Word, JPG, and PNG), and allows annotations and editing. The files will be converted online. You will not need to install any software. 
How to convert my file to PDF format?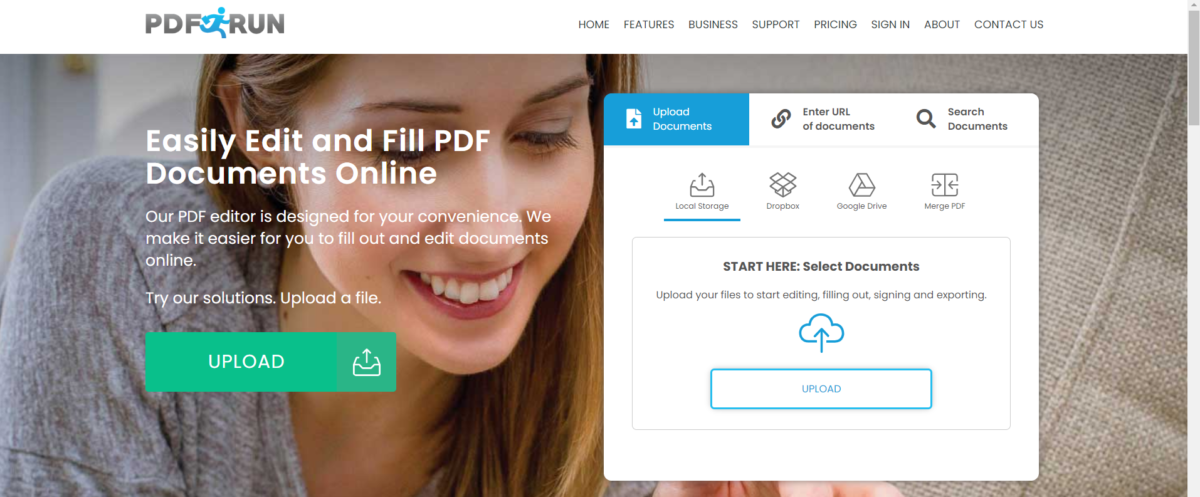 Click on Features and once the drop-down menu appears, select Convert Files to PDF.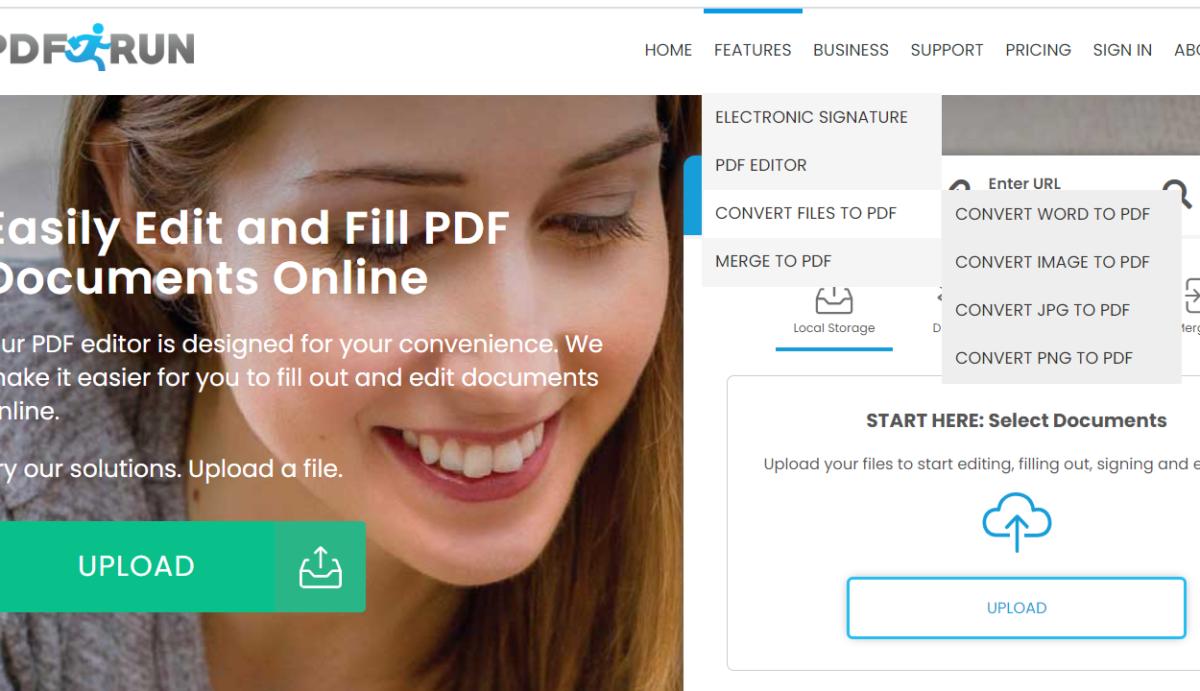 Select the type of file that you wish to convert to PDF. If you are converting a word document to PDF, click Convert Word to PDF. Then, you will land on a page that looks like this.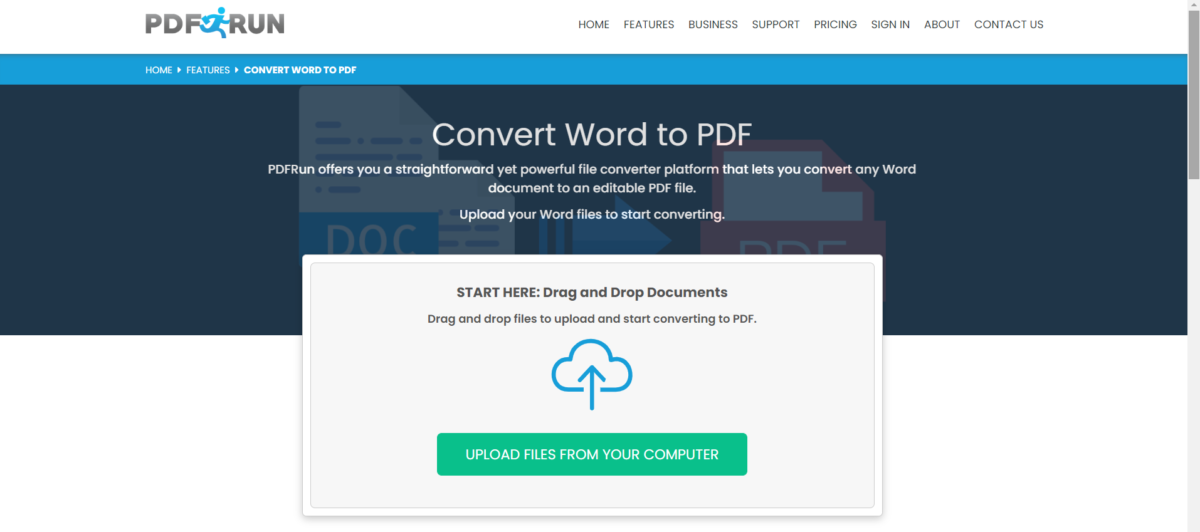 Drag and drop the

Word, Image, JPG, PNG, or other files you wish to convert or click on the "UPLOAD FILES FROM YOUR COMPUTER" button.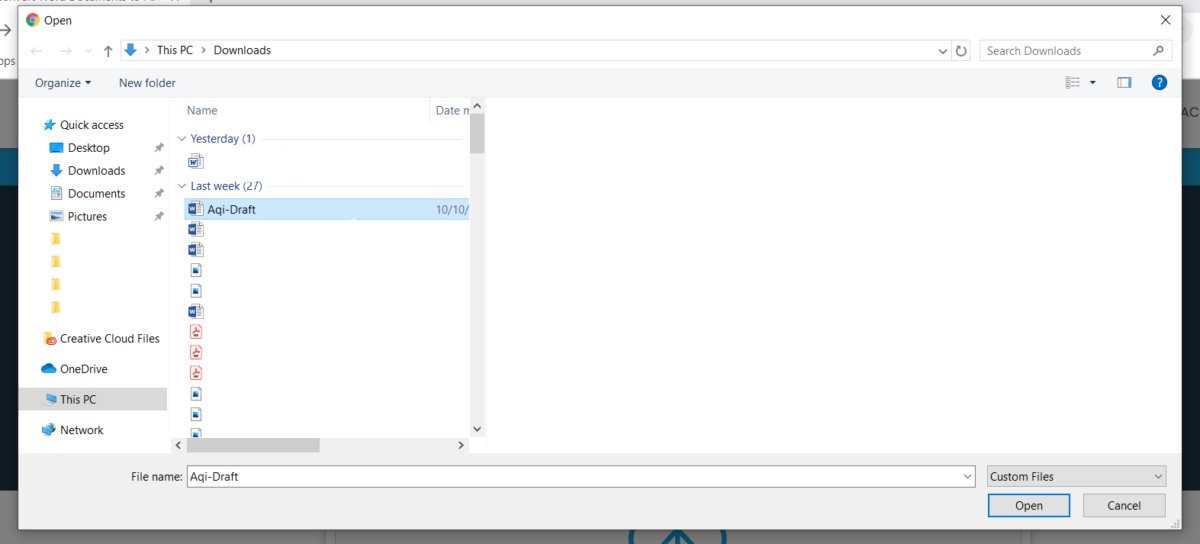 Once you have selected your file, click on Create PDF.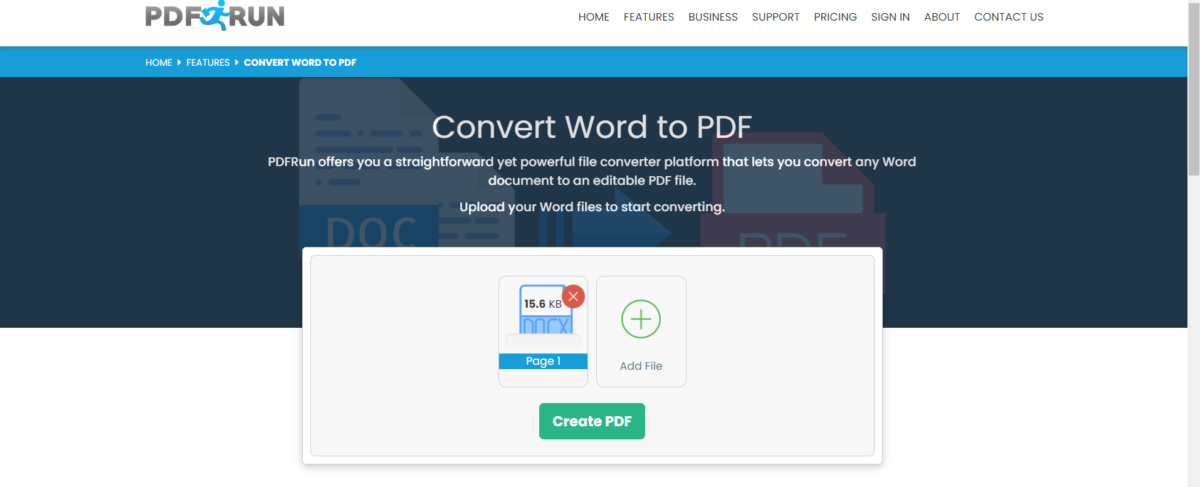 PDFRun will convert your document to PDF in seconds.

Your new document will be ready to download immediately. Click on Get Started.

Before downloading your new document, you may edit, add shapes, annotate, and affix your e-signature by clicking the appropriate icons on the upper corner of PDFRun.

Once you are done with your document, click on the Done button and your document will be saved.
Why convert to PDF?
Portable Document Format is more versatile compared to other file formats. The main reason why "Portable Document Format" (PDF) was released by Adobe is to ease transferring of files.
Today, the specifications of PDF have evolved.
PDF files are easier to view using almost any device. Users may view them using PDF reading tools like Acrobat Reader. 
The format of your file will also be preserved in a PDF document. You don't have to worry whether the file will still look the same when viewed using a different device.
You may also include interactive elements in a PDF file such as hyperlinks and music that the receiver may click on. Even if your file contains such elements, it will still be easy for you to share with other people. The PDF format allows compression without tampering with the content.
On top of this, it offers security especially if your file contains a digital signature, watermark, or confidential information. You may choose to protect it with a password.
Other Features of PDFRun
PDFRun prides itself on its simple interface and affordable plans while providing a perfect tool to help you with what you intend to anything PDF-related. Whether you are an individual or organization looking for a document management platform that provides smooth paperless workflow processes, PDFRun is suited for you. 
The following are the features you may access on PDFRun:
PDF Editor
The platform allows you to edit, add texts, and annotate PDF documents.
E-signature

You may easily send electronic documents that need your signature by electronically signing documents whenever and wherever you are.
Upload

The user-friendly design of the platform allows you to upload files from your computer or cloud storage provider.
Rearrange PDF

If you have a PDF document with a wrong sequence of pages, you may use PDRRun to re-order the pages.
Merge PDF

Using PDFRun, you may combine pages from multiple PDF files to create a new PDF document.
Convert to PDF

You can convert multiple files to a single, high-quality PDF document.