With the advent of computers, many tools and technologies have provided the means for employees to work more effectively. 
Typewriters were replaced by word-processing applications. Mailing or faxing of memos were taken over by electronic delivery of mail. Archives of letters and documents are no longer stored in filing cabinets. 
Running a paperless office was once just a vision. An article published in Business Week even conceptualized it as "The Office of the Future".
Why go paperless?
Each organization has its share of problems and pitfalls. Read the following benefits of going paperless and see if it can resolve problems within your organization.
Efficient Processes
According to Paperless Project, large organizations lose a document every 12 seconds. With the latest technology available, particularly document management systems, one can easily search, store, and retrieve files digitally. In the event of deletion, files can potentially be recovered.
On average, an employee spends 30 to 40 percent of his or her time searching for information in a physical cabinet. Imagine using that time to complete other tasks instead of searching, filing, and organizing tasks.
Storing documents digitally can save time. The time could then be spent on more productive tasks.
Reduced Stress
Applications and software allow ease of transferring files. In a paperless office, you would expect cleaner desks and wider office spaces since you will no longer receive and store physical copies of documents. You'll be able to access them online.
Going paperless also allows you to collaborate with fellow employees in real-time. No need to wait for another person to finish his parts in a document or for revisions. You won't lose track of all the changes made since everything is recorded. Backtracking and finalizing details is a breeze in a paperless office since the workflow is automated.
Improved Security
Running a business or organization requires planning, inventory checking, budget management, staff training, and a whole lot more preparations. Despite all of the planning, protecting vital documents from theft, fire, flood, or any unfortunate events may be the last thing on your mind. 
Various businesses would fail if they do not have a backup. Keeping your files in a cloud server that may only be accessed by authorized users is the solution for this. In the event that a fire or flood hits your location, you no longer have to fear losing your documents as digital files are not at risk of being completely lost. 
Building your paperless office
Considering all the benefits laid out, transitioning to a paperless office is worth the effort. Listed below are tips to start your paperless journey with PDFRun.
PDFRun provides various features to help transform your office into a paperless one.
Switch from physical filing cabinets to cloud storage
Instead of using file cabinets, start by implementing remote document management. PDFRun is suitable for storing contracts, government forms, and other electronic documents.  It has a cloud storage feature for easier team collaboration, document accessibility, and hassle-free file transfers.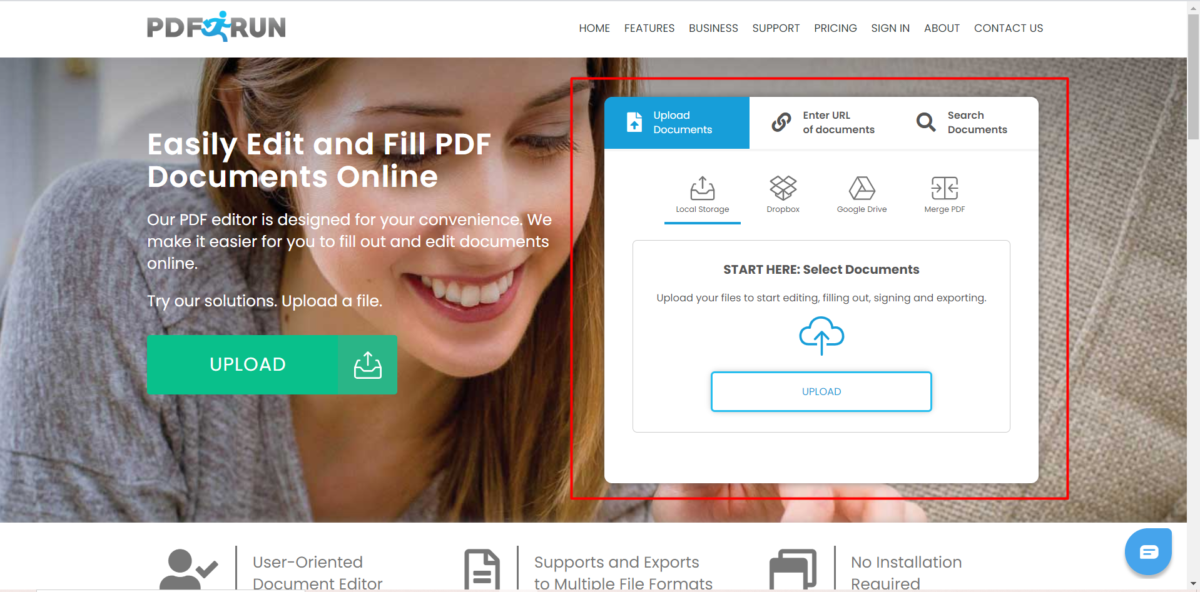 Integrate with workplace operations
Use PDFRun to affix electronic signatures instead of printing physical documents and signing them manually. Aside from adding e-signatures, PDFRun offers electronic document editing tools and merging and splitting electronic documents, and converting different files into a PDF format.
Here's a preview of how to use the electronic signature feature on PDFRun:
Select the file from your computer or cloud-based storage and upload it to PDFRun.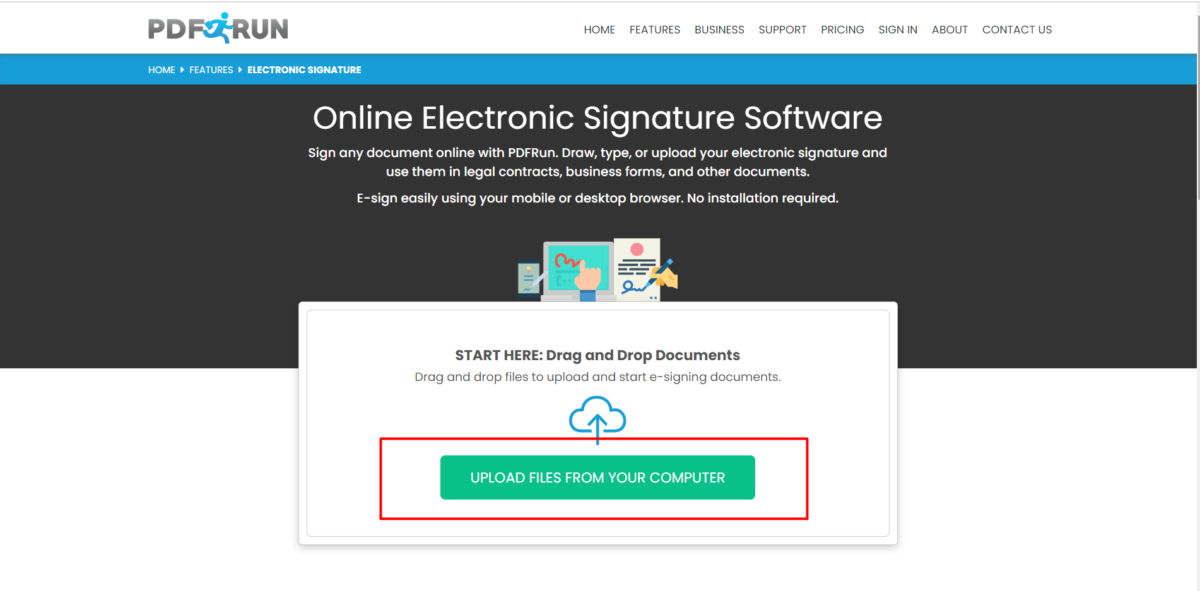 Once uploaded, PDFRun's online editor automatically converts it to a fillable format. You may edit the file using PDFRun's editing tools. You may add texts, numbers, dates, shapes, and images to the document using the Insert tab.


To affix your signature, click on the Insert tab and select the Signature option. You may choose to draw, type, or upload an image of your signature.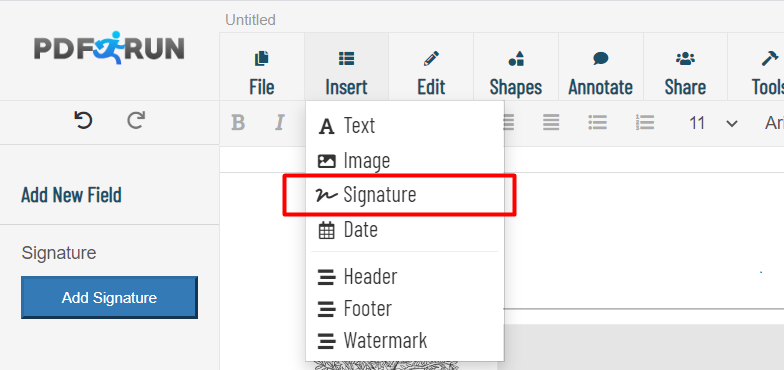 All of these features may be accessed online as PDFRun requires no installation. They have a responsive customer service to assist you with your needs and concerns.
Involve all employees
Shifting to a paperless office is not a one-man transition. All your employees must be on board with this change. Slowly introduce digital platforms like PDFRun for keeping all documents in the cloud, affixing electronic signatures, creating digital documents, and converting files to PDF.
Going paperless may seem daunting at first, but digitizing your processes will help your organization to move forward.